Not sure which day of the week it is, all the days are merging into one. This is the longest holiday I have ever been on (probably since I left school). We are wrapping up the last two weeks of our trip here in Cyprus (Turkish Cypriot side) with some of Jem's family. We have four days left before we leave. I feel completely spoilt and privileged to be able to go on this trip!
The minute we arrived in Cyprus we didn't have to worry about a thing. No more lugging suitcases around following google and getting lost (although I did find that exciting at times).
A driver (Bulent) picked up the six of us at the airport. Bulent recognised Jem, because he picked up Jem's twin brother earlier that day. Before he appeared though I was trying to convince Jem that the man holding up a sign with "Australian Delegation" written on it was our driver… not sure where we'd have ended up, had he believed me J.
Before reuniting with family, I tend to think about the food that I might enjoy when eating with them. On the way from the airport I was thinking about some of Neco's home cooked börek with mince and potatoes in it and it turns out that's exactly what Neco (Jem's dad) had waiting for us when we arrived, that and Jem's family waiting made us feel at home.
Our accommodation was a lovely home overlooking the sea, with a surprise for the kids (a pool) and room for 7. We also had the use of a seven seater car for our stay, both arranged and paid for by Jem's parents. I am honestly completely grateful for their generosity, not a custom I am use to (letting parents pay).
The kids 5 mins after they said they wouldn't go near the pool. Busted.
Travelling to Cyprus for us was about visiting family and so far Jem's mum, dad, brother, uncle and aunty, another aunty, a friend she grew up with and her family, cousins, nene, great aunty and some of her kids have all been a part of our experience.
It has been so good to reunite with family we already know and to meet some of the family that I had never met before. In true Cypriot style they couldn't have been more kind and accommodating.
Catching up/meeting some family
A stop to visit family and enjoy a chat over coffee, borek, cake and ice-cream for the kids.
Hilmi and Goksel (Jem's great uncle and auntie) took us to their property to check out their fruit orchard. On the way, I was surprised at how dry the countryside was. Perhaps the Greek Cypriots have dammed it up for themselves and water no longer flows into the north?
Jem didn't quite get the concept of prickly pear, whoops, but as he cracked one open I had a taste and they have a caramel flavour. Perhaps they'd be nice made into a dessert?
Following our farming adventure, Hilmi and Goksel took us over to see how the olives collected from their trees were then made into olive oil. We saw the olives going into a large container, up a conveyer belt and could see various contraptions behind these machines. Not quite sure of the process in the middle, but saw pure heavenly olive oil coming out the end into 30+kg containers. After a few weeks eating in Italy the kids had an appreciation for bread dipped in olive oil and balsamic, so enjoyed seeing the production of the oil, I think.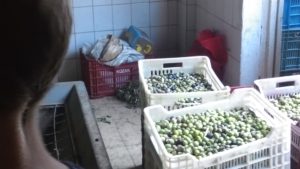 Loads of fresh olives
Mustafa is married to Jem's auntie's good friend Shazz. They took us out for dinner one night and he knows how to party hard. He had the Raki out before the entrée made it to the table. I hate the taste of liquorish though, so I didn't drink that. However, thought it best I drink some wine every time he raised his glass and gestured that we all join him. I am sure there was something wrong with my last glass of wine :).
We've been to so many restaurants and eaten so much food. There were three restaurants that had their own beach, so we swam and pretty much ate all day. I liken eating Turkish food to running a long distance running race, it requires real sporting talent! You need to start slow and have plenty of stamina, because the food never stops coming out. And if your plate is empty the entire family will make sure that you are happy (put more food on your plate).
The problem is, the food is delicious and it's difficult not be greedy. If we weren't at restaurants, we were at someone's house for coffee. Where aside from family company, there were always multiple delicious desserts and/or börek to enjoy.
Whilst in Cyprus we have seen some lovely castles, we stopped at the Buyuk Han for a shop and lunch, where we saw some nor börek made before us. We ate dinner near a beautiful monastery (Belapais) with a spectacular view over Kyrenia and the Mediterranean.
Castle view
The Mediterranean was warm enough for swimming and I don't just mean jump in and out again, like I did in Malta. I stayed in long enough to see how well you can float in the salty Mediterranean, have all three kids jump all over me, try to peg the ball at their heads for a while and to enjoy some underwater photography.
We also experienced the Greek side of Cyprus, at Water World. The border control for crossing the border and/or returning was a little bit crazy (to say the least), Jem may elaborate when he writes his blog? Once across, I noticed a green country side with clearly more investment in roads and infrastructure.
Water World was free of the summer crowd. It was 31oC and not much of a line for most rides. The kids had a blast.
I tried my foot at Garran fish (5 min for 5 EURO), but it was icky and I gave my remaining 4 mins and 55 seconds to Jem. What a funny feeling!
Luke loving his Garran fish treatmentSo four of us ladies (Chloe, Nene, Sema and I) are headed off to the hairdressers today. I have a few greys appearing, but I am mainly going so I can get the full Cypriot hair salon experience that Nene and Sema have mentioned on occasion. It's another chance to sit back, relax and listen to more family stories, which I absolutely love.
Following today we have a few days left and as our trip and stay in Cyprus comes close to the end, I am sad to think about leaving family and new made friends here. However, I am also so excited for the kids that they will get to see their other parents. I know they all miss home and are looking forward to getting back.
Cyprus is beautiful, as is family! I love it.